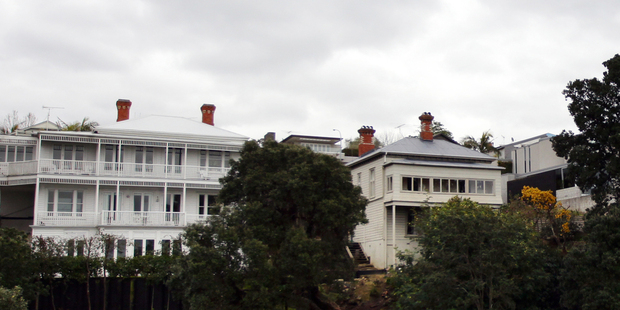 Ring Terrace in St Marys Bay, Auckland, was once home to Flora MacKenzie's brothel. Photo / Doug Sherring
These days, the only trouble in well-heeled St Marys Bay is when the soccer mums in their SUVs clog the narrow streets after school. But barely a generation ago it pulsed with activity as some of Auckland's most distinguished gentlemen rubbed shoulders at Flora MacKenzie's notorious brothel.
To this day, says a current owner of the Ring Terrace property, the older taxi drivers drop the names of prominent personages they once dropped off at the same address.
Billy Farnell was a good friend of Flora's. He's a gentleman, a storyteller and a pianist. He says he was a kid during World War II when Flora's career as a madam had its accidental, innocent origins.
The US Navy was in Auckland, he says. Flora's Vulcan Lane shop, Ninette, was doing well. Her father, Sir Hugh MacKenzie, the chairman of Auckland Harbour Board, asked Flora to get a few girls to escort American naval officers to a ball. After a pleasant and apparently platonic evening, the officers dropped the women at an apartment and bid farewell.
Soon afterwards, one girl found a surprise on the doorstep. "The officers had left an envelope," Farnell says. "It was full of money. These officers mistakenly thought they were women of the night."
As the Americans sailed off, Flora's fame spread. "The officers left her telephone number on every toilet in the South Pacific. And the phone never stopped ringing."
As legend has it, a prime minister and a bishop were among Flora's clientele. And Great Train Robber Ronnie Biggs allegedly hid out at the brothel after escaping by ship from Australia in 1970, although Biggs later told New Zealand Herald columnist Peter Calder he came ashore only long enough for a beer.
Ring Terrace is a short street and in recent years it has been home to businesswoman Jan Trotman and her politician partner, Winston Peters, fashion designer Helen Cherry, property tycoon Pat Rippin and troubled socialite Lynne Carter.
Farnell says Flora became part-Chicago gangster, part-raconteur. She was so likeable, so bubbly, so smart, she sometimes won over police tasked with taking her out.
"She'd hold court and you'd go around there and the Vice Squad would be there."
MacKenzie's only business rival was a Mt Eden madam called Joan Dann. "They used to have turf wars. They were sort of like Chicago gangsters. [But Joan] didn't have the finesse that Flora had."
Thirty years after her death, Flora's exploits are honoured in ex-hooker Rachel Francis' new book, Naked Truth. Francis says Flora was a courageous woman, risking the wrath of the law and postwar society to do what she loved.
"She was born with a silver spoon in her mouth. She could've chosen any profession she wanted. She could have said, 'This is too hard, I'll go back to sewing'. Yet she chose to be arrested not once, but twice, and still carry on what she was doing."