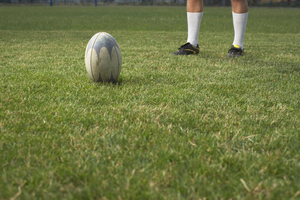 A spokeswoman said the teenager would also not be representing the school in any way. Photo / Thinkstock.
The star player of a secondary school rugby team, who was also the school's head boy, will be missing from today's rugby final.
St Kentigern College yesterday confirmed that Sootala Fa'aso'o would not play in the final against Auckland Grammar at Eden Park this afternoon.
His family last week said they expected him to join teammates today, but a statement from the school yesterday said that would not be happening.
A spokeswoman said the teenager would also not be representing the school in any way.
The exclusion follows an incident believed to have taken place recently.
There has been widespread speculation in the school community over Fa'aso'o's sudden departure.
Students were told he had been stripped of his role as head boy at an assembly.
The college will not say what he is alleged to have done.
In a letter sent to parents this week, the chairman of the school's trust board, Bruce Goodfellow, said he had been stood down for failing to uphold standards expected - particularly of student leaders.
He said that the school had a "very clear code of conduct" but that "regrettably" it appeared those standards had not been met. Mr Goodfellow said he was sure parents would understand the school's obligations concerning the privacy of young people.
The matter would be under review by the trust board.
A police spokeswoman said no complaint had been received.
The family did not respond to Weekend Herald requests for comment but last week were adamant he had "nothing to apologise for" and they were confident he would be able to play in the final.
They said he had received offers to join the Crusaders, the Warriors and Australian rugby league clubs after he finished school.