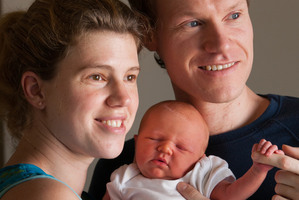 A Kiwi couple have their own "little princess" after naming their daughter Zara during the Olympic Games.
British equestrian silver medallist Zara Phillips is the Queen's granddaughter, something Hamilton couple Yvonne and Malcolm Phillips were well aware of when they named their 3.1kg baby, born on Wednesday night.
Zara Summer Phillips arrived at the Waterford Birth Centre nine days after her British namesake won silver in the teams' equestrian event. "We both liked the name, but I also like the idea of having a little princess," Yvonne said.
Friends and family were supportive and she wasn't worried about getting any flak for naming her daughter after the famous royal, who has kept her maiden name since marrying England rugby player Mike Tindall last year.
"Most people like the idea, but it doesn't matter what they think. It's not like we're diehard fans or anything. We liked the name and there are worse people to be named after."
The Olympic allure had little influence, despite the elder Zara Phillips earning a silver medal on July 31 as part of the British equestrian eventing team, she said.
Meanwhile, Kiwi Beijing Olympic rowing bronze medallist Nathan Twaddle wanted to name his Olympic baby after Eton Dorney, the rowing venue in London. "I suggested Eton but she said no," the former coxless pair medallist said following the birth of his second son on day three of the Games.
Wife Andrea agreed to scan the names of gold medal winners on the day of their son's birth, Twaddle said, but they eventually settled on the name Ethan.