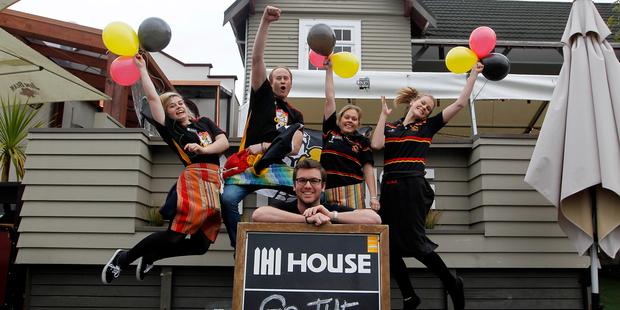 Chiefs fever is spreading across the Waikato as Hamilton gears up for its first Super Rugby home final, which is expected to inject $3 million to $5 million into the economy.
The 25,000 seat Waikato Stadium is expected to sell out for the Saturday night match against the Durban-based Sharks, who confirmed their spot in the Super 15 final in yesterday's win against the Stormers in Cape Town.
Hospitality hot spots, retailers and accommodation providers are preparing for an influx of fans.
The Phoenix Group director Jason Macklow, who runs several bars and restaurants in the city, said he expected game week to haul in upwards of $1.5 million for the hospitality industry and Hamilton as a whole.
"Hamilton hasn't seen an event like this for ages. The Chiefs are making a legend of the place which is great. And I think the locals are really going to get in behind it."
Mr Macklow said plans were already afoot for a fan zone in Hood St and a ticker tape parade for "when we win".
Hamilton Central Business Association general manager Sandy Turner said, "We're going to be dressing up our shop fronts and trying to do a week-long celebration, so we'll be urging our members to think about great promotions for the whole week."
Hamilton Mayor Julie Hardaker said a home final was fantastic for the city's "feel-good factor" alone.
She said the Chiefs had already pulled in huge crowds to Hamilton in other games, including the semi-final on Friday night when they put the Crusaders out of contention with a 20-17 victory.
Chiefs franchise chief executive Gary Dawson said a home final was a great benefit to the team.
"If you look at the history of Super Rugby, in fact most sports, having home-town advantage is huge.
"It means that your preparation leading into the game is not compromised by travel.
"So the guys get to sleep in their own beds and do their preparation in the way they want," Mr Dawson said.
It's only the second time the Chiefs have made a Super Rugby final, after they were comprehensively defeated by the Bulls in Pretoria in 2009.
What: Chiefs v Sharks Super Rugby final
Where: Waikato Stadium
When: Saturday, 7.35pm
Tickets: On sale Wednesday 8am from TicketDirect or go to www.chiefs.co.nz/tickets