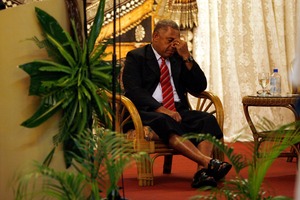 New Zealand intelligence agents would not have searched the home of a former Fijian cabinet minister and seized his computer if there wasn't a genuine concern over allegations of a plot to assassinate Fijian leader Frank Bainimarama, Prime Minister John Key says.
"You can be quite sure that the SIS act within the law - they are thoughtful and careful and they only act if they believe it is in the best interests of New Zealanders."
"As the Minister of the SIS, there is nothing I have seen them undertake in my time as the minister where I've either been uncomfortable or I think they've acted unlawfully - or whether they haven't acted in a considered and appropriate manner and I fully support their actions whatever they might be."
Movement for Democracy in Fiji leader Rajesh Singh said four people from the Security Intelligence Service served him with a search warrant and seized his computer, phone and a photograph.
He said the SIS questioned him over an alleged plot to assassinate Commodore Bainimarama and Fiji's Attorney-General Aiyaz Sayed-Khaiyum.
Mr Singh said he planned to lodge a complaint with the Human Rights Commission and Ombudsman.
Colonel Tevita Mara, who is in exile in Tonga, is also alleged to be part of the assassination plot, but he denied any knowledge of it.
Mr Key said Colonel Mara was banned from visiting New Zealand and could visit only if granted a permit.
"Every time he comes to New Zealand we have to grant him a exemption to a ban - whether we will grant him a future exemption is a matter that we'd have to take some advice on at the time," he said.
He indicated the Government had already been in touch with the military regime in Fiji over the alleged assination plot.
"When the Government believes it needs to communicate with other interested parties it does so."
Fiji has been under the control of a military regime since Commodore Bainimarama seized power in a coup in 2006.
- APNZ