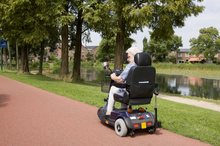 Legal proceedings have been started to destroy a Neapolitan Mastiff dog that leaped over a boundary fence in a suburban Gisborne street and pulled an elderly woman off her mobility scooter.
The attack last week left her with a deep cut to her arm.
"We have been in discussion with the dog's owner and her partner this morning, with a view to having the situation resolved,'' said Steve Greaves, animal control officer for Gisborne District Council.
A 77-year-old woman was "left traumatised'' after she was bitten at the Stout St / Atkinson St intersection last Tuesday.
She was taken to Gisborne Hospital for treatment and discharged later that night.
"Legal proceedings are now under way and the dog will remain in custody until a decision is reached,'' Mr Greaves said.
By Gisborne Herald staff