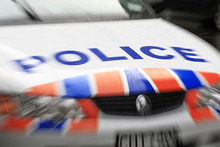 Gisborne police have arrested a Black Power gang associate in relation to a stabbing in the city overnight.
The 30-year-old is facing three counts of wounding with intent to cause grievous bodily harm, after a man and two women were stabbed.
Police have recovered a knife.
Three people suffered non-life threatening stab wounds after the gang fight near Gisborne last night.
The stabbing event was one of two unrelated violent incidents overnight which Tairawhiti police are investigating.
Senior Sergeant Maui Aben said a fight broke out after a group of people turned up at a party in Kaiti uninvited about 11pm last night. Three people from the group of gatecrashers - two women aged 16 and 20 and a 22-year-old man - were stabbed and required hospital attention, although their injuries are not considered to be life threatening.
In the second incident, a 24-year-old man arrived at the Tairawhiti Police Station about 5am, bleeding from the neck.
It is believed he was struck with a bottle and he required hospital treatment.
Senior Sergeant Aben said the incidents are not believed to be connected.
- Newstalk ZB / Herald Online Staff