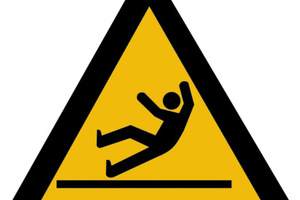 A suspected shoplifter knocked himself out after running into a metal sign while fleeing pursuers in Whangarei.
Acting Sergeant Natasha Waterhouse, of Whangarei police, said a 19-year-old from Mangawhai was in Rebel Sports, in the Otaika Shopping Centre, about 4.15pm on Wednesday when he allegedly removed a security tag from a $130 pair of Nike shoes and put them down his trousers.
Ms Waterhouse said a member of staff saw the alleged theft, but the man noticed he was being watched so removed the shoes, put them elsewhere in the store and went to leave. She said staff members approached the man as he was leaving, but he ran off before he could be detained.
However, several people saw the disturbance and gave pursuit, chasing the man down Port Rd, before catching him outside a kayak store.
Ms Waterhouse said as the members of the public were returning to the store with the man he again made a dash for freedom, slipping his captors and taking off down Port Rd.
He obviously wasn't looking where he was going.
"As he was running up Port Rd again he was felled by a horizontal bar that was holding up a sign that was at head height to him. He ran into it and knocked himself out totally," she said.
An ambulance attended the man, but he did not require hospitalisation, instead being arrested and charged with theft. Police praised the members of the public who chased and caught the man.
For more articles from this region, go to Northern Advocate