Do you have more information, photos or video?
Email us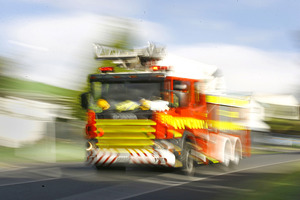 Firefighters have drenched a large blaze at an east Auckland bowling alley this morning.
Twenty fire trucks went to the Timezone Xtreme Entertainment complex on Ti Rakau Drive, Botany Downs, after an automatic alarm went off about 4.50am.
The fire was in a storeroom and at one stage threatened to spread to adjoining buildings, which include Harvey Norman, Kmart and Beds 'R' Us, northern fire communications centre shift manager Scott Osmond said.
It was all but extinguished by 7am but fire crews remained at the scene to dampen down hotspots.
A fire investigator was at the scene.
Meanwhile, a large blaze engulfed an engineering premises south of Auckland around the same time.
Six fire trucks were called to Pro-Drill on Alpito Place, Pukekohe, by a member of the public about 4.50am.
The fire had since been extinguished and a fire safety officer was investigating the cause.
- APNZ