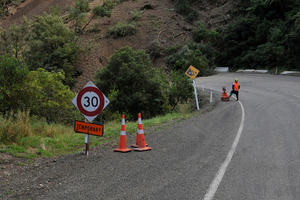 Waioeka Gorge between Gisborne and eastern Bay of Plenty is under threat of closure again as the clean-up of the landslide that closed it last month nears $10 million.
NZTA Bay of Plenty state highway manager Brett Gliddon says it is possible the temporary road around the slip face could be closed for safety reasons.
"We will provide as much warning as possible if we have to close the temporary road," he said.
Heavy rain in the area over the past 24 hours has geologists concerned about fractures high up the slope on the Opotiki side of the slip face.
Mr Gliddon said this area was moving slowly, about 60mm so far.
"While we believe a large slip from this area is unlikely, some recent movements in the last day or so suggest that one or more smaller slips could be possible.
"We will continue to monitor this area closely tonight and tomorrow. We will know more this morning when our geologists will be back to inspect this area."
Mr Gliddon said costings for the slip project were still coming in and it was expected to reach about $10 million.