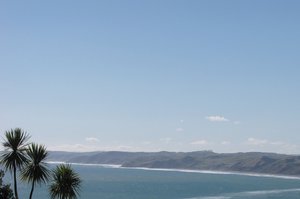 Two adults and two children were rescued this morning after the boat they were paua diving off sank south of Raglan last night.
The group, which included two children under the age of 10, were about to go free-diving for paua off a 4.3-metre aluminium boat when it was hit by a rogue wave and sank about 7pm yesterday, Raglan Life Saving president Andrew Withers said.
The group, which was all wearing life jackets, then swam to rocks on the shore, about 20 minutes south of Manu Bay.
"It's a rugged coastline, and where they were there's pretty much a 20-30 metre cliff straight up from there then rocks," Mr Withers said.
The group then had no choice but to stay where they were.
They spent a cold night out in the open which they were not prepared for, he said.
"They got quite cold last night and this morning they were cold, but by the time we got to them the sun was up and they had sort of baked up a bit warmer and [had] no signs of hypothermia or anything."
This morning they flagged down a passing vessel which then raised the alarm bell.
Raglan Surf Lifesaving club then worked with the local coastguard to get the group back to land.
"They were actually quite responsive and the kids seemed to quite enjoy it.
"They got an impromptu camping trip."
The children even made a hut out of driftwood and were loving it, he said.
- APNZ