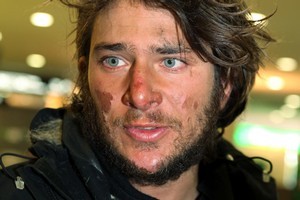 Rich-lister Gareth Morgan has slammed Norwegian adventurer Jarle Andhoy's illegal Antarctic expedition, saying he hopes his boat sinks.
Mr Andhoy set sail from Auckland last month on the ship Nilaya, aiming to retrace the steps of a previous expedition that made headlines last year when three support crew members died.
He and companion Samuel Massie had attempted to cross the South Pole on quadbikes but the trip turned to disaster when the waiting support yacht Berserk sank in McMurdo Sound.
Mr Andhoy failed to get permission to undertake both expeditions.
Mr Morgan, who is currently on a trip to Antarctica to raise awareness of the importance of the sub-Antarctic islands, has slammed the Norwegian's latest mission in a blog post.
An adventurer himself, Mr Morgan wrote that he admired people who had an independent spirit and liked to do things their way - but added there was a limit when their actions hurt others.
"He appears to not give a toss about the amount of hurt he imparts on those who get in the way of his quest for his 'Wild Vikings' brand to attract sponsors and book sales.
"It's pathetic, really, and one has to have genuine sympathy for the families of the three lost souls that his quest for fame condemned to death."
Mr Morgan also described Mr Andhoy as a bludger.
"Catching up this week with some of those who have known this guy for over 20 years and have seen him bludging parts and time from other yachtsmen to keep his jalopy on the water, there is a general view the fellow is a bottom feeder, a taker of the worst kind.
"And now the concern is that his antics will result in a winding up of regulatory prohibition and enforcement of those rule so ruining the scope for adventurers in the Southern Ocean to pursue their goals. Selfish is too kind a word."
Mr Morgan's tirade ended: "Let's hope he sinks."
Norwegian media today reported Mr Andhoy's ship had arrived in Victoria Land, north of New Zealand's Scott Base, where they began a search for debris from the Berserk.
The Nilaya then set course for Franklin Island, an agreed emergency rendezvous point on the fateful Berserk mission.
Also on board the ship is Aucklander Busby Noble, a friend of the men who died, who reportedly planted a Mana Party flag in the polar ice.
- APNZ