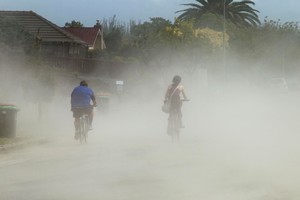 Residents in Christchurch's eastern suburbs are upset at the dust clouds being caused by people driving through to check out the damage.
City Councillor Barry Corbett says it is a lovely fine day in Christchurch, but that means the liquefaction has dried and is being stirred up by vehicles driving at speed.
He says that is making things worse for the people in those areas, so people are being asked not to go and look at the damage in the east unless they want to give residents a hand shifting silt.
Continuing aftershocks in Christchurch don't seem to be deterring residents from taking advantage of Boxing Day bargains.
There have been 12 aftershocks in Canterbury since midnight and up to five o'clock this afternoon, the largest measuring 4.1 on the Richter scale.
City Councillor Barry Corbett says he has been in Riccarton Mall today and it was packed with people.
He says everyone seems to be in a normal, happy Christmas mood, but you're always hearing comments about the latest large quake.
An earthquake has been felt in part of Bay of Plenty this afternoon.
It came at 4.52 and measured 3.5 on the Richter scale.
It was located 10 kilometres north of Matata, at a depth of five kilometres.