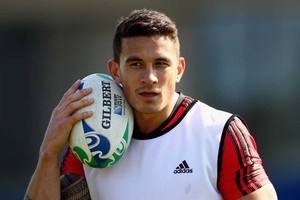 Sonny Bill Williams has told close friends of his intention to shift to Sydney in a year, an Australian newspaper claims.
Parramatta and Sydney Roosters are in a head-to-head battle to snare Williams for the 2013 NRL season should he quit rugby after his one-season deal with Super 15 franchise Waikato ends next year.
The dual international has spent most of his free time in Sydney since last month's successful World Cup campaign with the All Blacks, and resumed personal training in the eastern suburbs last week.
A source close to Williams said the 26-year-old had been seeking advice about where to settle in Sydney, indicating his interest in an NRL return is genuine.
"Sonny has been asking a few mates about where he should live when he comes back to Sydney," the source told the Sunday Telegraph.
"Playing NRL is a definite option."
Williams fronted a press conference for the Chiefs and said he wanted to form a lethal backline alliance with fellow All Blacks Aaron Cruden and Richard Kahui, wearing the No 12 jersey.
He also said he wanted to challenge Ma'a Nonu, now moved to the Blues, for that same position in the All Blacks.
Williams, who officially joins the Chiefs on January 9, said he would set up homes in Auckland, near his mother, and in Hamilton.
But the attraction of Australia - and his popularity there - may prove a deciding factor after this season.
Roosters chairman Nick Politis is a fan of Williams and has the financial connections to compete with cashed-up international rugby clubs.
But Parramatta chairman Roy Spagnolo could also be interested as his team includes Williams' former Bulldogs teammates Reni Maitua, Ben Roberts and Willie Tonga.
Williams is close to Maitua and the pair have socialised many time since the Rugby World Cup.
Asked about Williams last week, Spagnolo said Eels coach Stephen Kearney and football manager Peter Nolan had complete discretion over player recruitment, "and I haven't heard anything from them about Sonny Bill as yet".