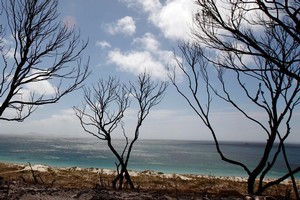 Rain falling today in the Far North is providing a welcome reprieve for weary firefighters.
The latest inferno spread across 130ha of tinder-dry bush on the Karikari peninsula this week, leaving three homes, 15 buildings and many cars and boats as charred remains.
Pilot John de Ridder and Department of Conservation ranger William Macrae died when the helicopter they were in crashed about 350m off the coast of the peninsula on Wednesday night as they tried to fight the blaze.
The fire, which police are treating as suspicious, began on the Karikari peninsula about 2 hours north of Whangarei on Wednesday and patches were still smouldering this morning.
It is reportedly the 14th suspicious fire in the area over the last 18 months.
Kaitaia fire chief Colin Kitchen last night said the fires could be the work of a serial firebug: "I believe a good number of these fires are deliberate and could be connected.''
Police were still investigating what caused the fire and where it started, said National Rural Fire Authority's incident controller Bryan Jensen.
He said firefighters were stepping back this afternoon to let steady rain over the area run its course, as a light spread of rain had increased to heavy rainfall over the morning.
Mr Jensen said a single crew patrolling the area had been pulled out of the field at about 11:30am.
"We're getting steady rain and that's just superb, because that's what we needed. We're quite happy just to pack off for a wee while at the moment and let the rain do its job.''
Up to 40mm of rain was forecast for the area today.
He said fire services were focusing on the smouldering hot spots dotted across the fireground, mainly around the perimeter and 50m in from the edge.
Mr Jensen said the team was looking to help develop ways to deal with fires in the area given the high number of blazes.
"We're assisting to look at some wider planning of contingency measures for the wider region given the number of fires that exist across the region, that have yet to be declared out.''
The next step will use aerial thermal cameras to identify any hot spots, while the overall efforts would be scaled back over the next few days, he said.
Meanwhile, the wreckage of the Squirrel ZK-IMB helicopter recovered from the sea at Karikari will reportedly be taken to Auckland Airport for the CAA accident investigators to inspect it.