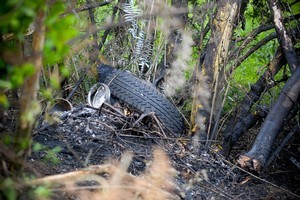 Police are still trying to work out who was driving a car which crashed in the Southland town of Winton yesterday, killing a teenager.
Acting Senior Sergeant Cynthia Fairley said Stevieowen Kenneally, 18, of Winton, died when the car he was in rolled and slammed into a building in Park St about 5.30am yesterday.
A 17-year-old youth, also from Winton, was in Southland Hospital with spinal injuries, she said.
The car was believed to have been speeding before the crash, and it was not known which of the teens was driving, Ms Fairley said.
A nearby resident who was woken by the sound of the crash said the car had gone through a fence before hitting the building and flipping onto its roof.
The death was one of four on the roads at the weekend.
About 3.45pm on Saturday, a 49-year-old man died after his 1200cc motor-tricycle crashed in Napier.
Senior Constable Warren Clayton of Napier police said it not clear how the crash happened.
"Neither speed nor alcohol appear to be a factor," he said.
A post-mortem examination was carried out today but police were still awaiting the results.
The crash came hours after a 42-year-old Masterton man was killed when his motorcycle collided with a car towing a trailer on State Highway 2 south of Carterton, Wairarapa.
The highway was closed for about four hours after the midday crash.
On Friday night, James Sinclair, 43, died when his car exploded into an inferno after crashing in south Auckland.
The 4WD veered off Ararimu Rd in Ramarama shortly after 9.30pm and landed on a steep bank.
Flames from the car ignited the surrounding hillside and left Mr Sinclair almost unrecognisable, police said.
- APNZ