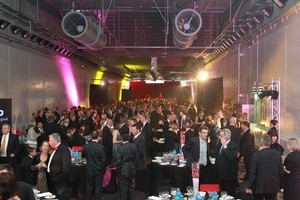 Fine dining went underground in Auckland last night as 1000 guests tucked into a three-course meal inside the new Victoria Park motorway tunnel.
Marquees for two temporary kitchens were set up at each end of the 450m tunnel for the event, which was held to raise money for the Ronald McDonald House Auckland Trust to improve accommodation for families of Starship Children's Hospital patients.
Diners, who paid $350 each, walked in after being dropped off at the Wellington St motorway on-ramp and enjoyed an evening of cocktails, food and entertainment by Avalanche City, Lisa Crawley and Annabel Fay.
A director of the Orange Group event company, Stu Robertson, said preparing for the evening was a logistical challenge involving generators at each end of the tunnel to provide power to the stage and "a massive team of chefs".
The Transport Agency has delayed its target date for opening two of the tunnel's three lanes to traffic until November 14.
But an opening ceremony, led by Prime Minister John Key, will be held tomorrow morning before 17,000 pre-registered people walk through the tunnel at 9.30am.
For those who missed out on a ticket, there will also be plenty of above-ground activities including a "walk of art" through a reinstated Victoria Park and demonstrations at the new skate park.