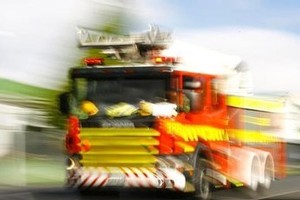 Hundreds of fish are believed to have died in a suspicious fire which gutted an iconic Mapua aquarium this morning, one of three fires in the Nelson Bays town overnight.
Emergency services were called to the blaze at the Touch the Sea Aquarium on Aranui Street around 3am.
Fire Service Southern Communications shift manager Karl Patterson said seven engines and two tankers were called to the fire, which was "well involved" on arrival.
Mapua chief fire officer Ian Reade told Radio New Zealand 37 crew were at the scene at the height of the blaze, and were assisted by a helicopter dousing the flames.
Crews were not able to go inside the building to combat the blaze, he said, but had been able to stop the blaze spreading to other buildings.
Mr Patterson said the fire is now contained and crews remain at the scene dampening hot spots.
He said the building is "extensively damaged", and has no reports on the welfare of any fish inside the building.
Mr Patterson said fire fighters have also extinguished fires in a nearby rubbish bin and a tennis club pavilion, also on Aranui St.
Police are at the scene and fire safety will be investigating the cause of the fires.
Speaking from Nelson Airport this morning, Touch the Sea owner Murray Goss had not yet seen the damage for himself, but believed "hundreds" of fish may have perished in the blaze.
"It's totally burnt out, I dare say the fish will have had a horrible death," he said. "Some of them will still be alive - some of the ones in the big tanks."
Mr Goss said the aquarium, which was built 12 years ago, employed himself, an educator, and three part time staff.
He said it was too soon to determine the future of the business.
"It's a shame because the Christchurch aquarium (Southern Encounter Aquarium) got wiped out in the earthquake and ours was the only other aquarium around, the next biggest one, there's only a couple of smaller ones left in the South Island.
"It's going to be a loss to school children, it's going to be a loss to the community and a great loss to the Mapua Wharf, which has been thriving."
Mapua is about 30km west of Nelson.
- with APNZ