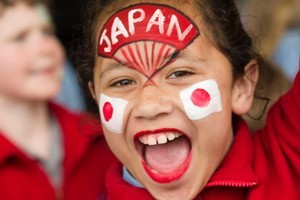 Japan would win the Rugby World Cup if the trophy were awarded on the basis of fairness, says the Catholic Church's social justice arm, Caritas.
The agency launches a slightly tongue-in-cheek World Cup blog today on its website socialjusticeweek.org.nz drawing attention to the theme of the church's annual Social Justice Week which kicks off on Sunday, "On a level playing field".
New Zealand scores fifth-best in the fairness stakes, behind Japan, Ireland, Samoa and Canada - but ahead of traditional rugby foes such as Australia, England and South Africa.
Caritas advocacy co-ordinator Martin de Jong said the league table was only "indicative", intended as a starting point for debate.
The scores, inspired by rankings of the World Development Movement for the soccer World Cup, give equal weight to seven indicators: income equality, gender equality, a "happy planet" index measuring satisfaction and life expectancy, military spending, the global peace index, transparency/corruption and foreign aid.
New Zealand comes only 11th out of the 20 rugby-playing nations on income equality, but scores better overall because it tops the world on both the global peace index, which measures internal violence as well as wars, and transparency (low corruption).
Japan scores highest overall because it has the highest level of income equality, is second-highest of the 20 nations on the global peace index and third-highest on gender equality.
Ireland and Samoa come next partly because they have the lowest levels of military spending - only 0.6 per cent of the national income in Ireland compared with 1.1 per cent in New Zealand, and zero in Samoa, which has no armed forces.
"Military spending and the peace index are proxy indicators, not a direct measure of inequality," Mr de Jong said. "It's a general experience that countries that spend a lot on the military tend to be more socially unequal."
High military spending, 1.9 per cent of national income, also pushes Australia down the scale, even though it shares out its income slightly more equally than we do. England, Scotland and Wales score first-equal on foreign aid because Britain gives 0.56 per cent of its national income in aid, more than twice New Zealand's 0.26 per cent.
FAIRNESS
1 - Japan
2 - Ireland
3 - Samoa
4 - Canada
5 - New Zealand
15 - USA
16 - Fiji
17 - Georgia
18 - South Africa
19 - Namibia
20 - Russia