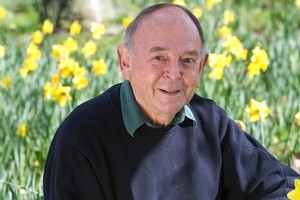 Growing up in Waipu, there weren't too many jobs for floral designers - but that didn't deter Fred Wilkinson.
The young Northland man's talent for flower arrangements was spotted when he visited Britain in 1967, and the head gardener at Windsor Castle offered him a job.
He's never looked back: most recently his dining table arrangements greeted foreign leaders in London for William and Kate's wedding.
Wilkinson, 76, returned to New Zealand this week for his brother Laurie's diamond wedding anniversary in Waikato. Suffice to say, the flowers would not have been quite as grand as those he designed for the Queen's diamond anniversary.
He said the Queen had a love of plants, although she was not a keen gardener like her mother.
It upset Wilkinson when people criticised the cost of royalty. "They make so much money for the country in tourism," he said. "The Queen herself is the most wonderful, kind and generous person."