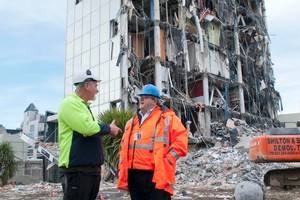 An $8 million memorial to those killed by the Christchurch earthquake is included in a draft plan unanimously backed by the Council today.
The plan, prepared by the dozens of council planners, calls for a smaller Christchurch CBD filled with mainly low rise buildings.
It was put together after more than 100,000 rebuilding ideas were submitted by the public, experts and other consultants.
Councillors unanimously backed the draft plan and sent it out for public consultation in a meeting this morning.
Christchurch Mayor Bob Parker dedicated the plan to the 181 people killed in the February 22 earthquake.
He said it paid tribute to the stoicism and courage of Christchurch residents and provided a pathway toward a "safe, sustainable, green, high-tech, low-rise city in a garden".
The plan calls for Christchurch earthquake dead to be honoured by a memorial - "a space rather than an object" that would elicit an emotional response.
It said the memorial would cost $8 million for land acquisition and development and would be constructed between 2015 and 2019.
Other major changes included a proposal to reduce the city's central business district to about a quarter of the size it was before the February 22 earthquake.
Light rail would link the area with Canterbury University and outlying suburbs.
The central city should be rebuilt as an earthquake-proofed, low rise area, closely integrated with the Avon River, the plan states.
Buildings in the core of the city centre were expected to be limited to seven stories, while those on its edge were to be capped at four stories.
A new Convention Centre and a swimming centre on the corner of Moorhouse and Fitzgerald Avenues were also proposed.
Though the plan does not include any geotechnical information about the state of the land following the September and February earthquakes which destroyed much of the central city, engineers have said that the CBD is generally safe for rebuilding.
More demolitions
Meanwhile, a University of Canterbury geologist says about 150 houses on both sides of Christchurch's Port Hills will have to be abandoned.
David Bell said 100 houses would definitely not be reoccupied, including some at the top and bottom of collapsed cliffs in places such as Sumner and Redcliffs.
The city council has declared almost 600 houses on the Port Hills off limits while engineering consultants assess the rockfall danger.
Mr Bell, who gave a public lecture on earthquake-related rockfalls and slope stability last night, said a "goodly portion" of hillside suburbs could be at significant risk from rockfall.
The February 22 earthquake hit the Port Hills harder than experts expected, collapsing 6000-year-old cliff faces and creating fissures hundreds of metres long, which tore houses apart.
Ground acceleration on the Port Hills during February's quake was almost 10 times greater than September, at 2.25 times that of gravity.
Mr Bell said the figure was mind-blowing.
"We did not expect 15 metres in one go to fall off a cliff face, when that cliff had been there for 6000 years and showed nothing apart from the odd rock falling off it."