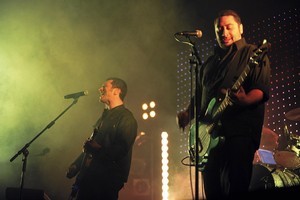 Fifty bands will play 60 concerts from Kaitaia to Invercargill to promote New Zealand music during the Rugby World Cup.
The series of live concerts - part of the REAL New Zealand festival - will include such acts as Opshop, Supergroove, The Chills, The Feelers, Fat Freddy's Drop, The Black Seeds, Phoenix Foundation, I Am Giant and Midge Marsden.
Rugby World Cup Minister Murray McCully said the concerts would add to the festival spirit and showcase the best of New Zealand's musical talent to overseas visitors.
"The depth of New Zealand music being offered is impressive," he said.
"New Zealand music is worth $30 million in annual export earnings and this is an ideal opportunity to showcase our talent."
The programme includes concerts in 22 centres. The full lineup of the showcase concert at Queens Wharf in Auckland will be announced in the next few weeks.
Funding has come from the NZ2011 Festival Lottery Grants Fund, the international cultural diplomacy programme, local government festival organisers and private sector promoters.
- NZPA