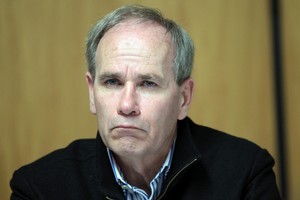 Auckland Mayor Len Brown has failed to stop local boards having an early input on contentious resource consents, such as the demolition of heritage buildings.
Mr Brown yesterday voted against local boards having a say on whether resource consents should be publicly notified, preferring to keep those powers in the hands of officers and independent commissioners.
The 11-8 vote in favour of the notification issue was the first significant council vote in which Mr Brown has been on the losing side.
Mr Brown, who has made much of local board empowerment being at the heart of Super City democracy, was happy with the regulatory powers delegated to the 21 local boards.
Last December, it was decided council and local board members could sit on "significant" and "contentious" resource consent hearings.
Yesterday, local boards were given an early say in whether resource consents would be notified and the chance to express their views in officers' reports on resource consent applications.
The council stopped short of allowing local boards to make submissions and appeal against resource consents.
During a more than three-hour debate, several board leaders arg-ued for a meaningful role in consent matters.
Devonport Heritage spokeswoman Margot McRae said heritage protection was doomed if left to planners to determine. One reason Devonport had maintained its heritage, she said, was because community board members had made decisions.
Councillor Cathy Casey said the boards wanted teeth - as promised during the Super City amalgamation.
"They're the eyes and ears of the community. We're supposed to be wearing regional hats. They're meant to wear local hats and to do that they need delegated responsibility," she said.
Albert-Eden Local Board chairman Peter Haynes was pleased to some meaningful input on resource consents.
"But we still can't make submissions, as the former community boards could, so we won't be celebrating with champagne."
Some councillors, including hearings committee chairwoman Noelene Raffills, Michael Goudie, Des Morrison, Calum Penrose and Dick Quax, wanted to limit the boards' regulatory powers on the grounds of good planning process andto avoid making procedures morecomplicated.