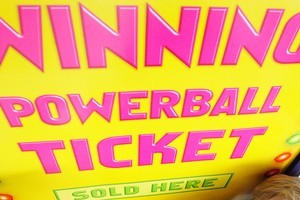 A Christchurch couple whose house was badly damaged in the February 22 earthquake have won more than $4.6 million playing lotto.
And the lucky couple have no plans to leave their quake-stricken city.
The man, who wishes to remain anonymous, is a regular Big Wednesday player and checked his lottery tickets during his regular grocery shop to find he had won $4,667,251.
He now plans to stop working and retire.
"I first checked my ticket at the Lotto counter ticket checker and it flashed up Division One winner. I then rushed to find my wife in the supermarket aisles and told her we might have won a million. To then be told I had won more than $4.6 million was a huge shock," the man says.
"I am looking forward to not having that alarm clock wake me up early in the morning. It will be great to sleep in and not worry about having to go work anymore."
The couple's house was badly damaged in the February earthquake and have been living in temporary accommodation.
"This win will help us to rebuild our lives in Christchurch. We have no desire to leave the city, but we will be able to afford a few trips overseas now in order to get away," he says.
The winning ticket was sold at Pak N' Save Moorhouse.