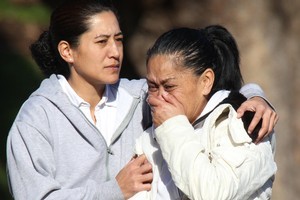 A post-mortem examination will take place today on one of two divers who died during a training session at Lake Pupuke.
The body of Daniel Waata Stoneham, 33, from South Auckland was found at 9am yesterday in deep water after a search by navy specialists and the police national dive team.
Mr Stoneham disappeared on Friday while on a training programme with an instructor and six other students on a course run by Helix Training for Adventure Education in East Tamaki.
Sonar equipment was used and his body was found about 100m from shore, at a depth of 53m on the southern side of the lake.
The body was taken to the Auckland mortuary.
Family and friends hugged and comforted one another at the lake's edge as they watched the divers pack up their equipment.
They declined to comment and asked for privacy.
Friday's exercise also ended in the death of another student, 37-year-old Tyron North, and the injury of a third student who was taken to hospital and later discharged.
Yesterday, the police expressed their condolences to the families and friends of the two dead divers and thanked residents living near Lake Pupuke and others who helped with the search.
They refused to comment further, except to say their inquiries were continuing.
The Department of Labour has also launched an investigation.
Adventure Education chief Sharon Sutherland said her firm and Helix were shocked and deeply saddened by the tragedy.
"This is a very difficult time for everyone involved. Our focus right now is on supporting the friends and family of these two men."
Ms Sutherland said Helix had cancelled its courses in Auckland but would keep its office open to offer support to those involved.
She said the divers were nearing the end of their five-month programmes working towards obtaining their tertiary diving qualifications.
- Additional reporting NZPA