Today the Weekend Herald salutes the winners of the annual Sir Peter Blake Leadership Awards, which honour one of the country's greatest leaders, the late Sir Peter Blake.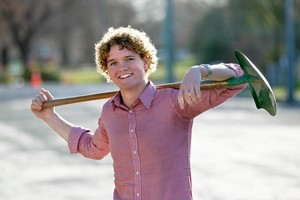 Special Leadership Award
As the general of his own army at the tender age of 22, Sam Johnson is using a new style to rally his troops.
Gone are the structured lines of command, the barked orders and the regimented structure. The Canterbury Student Volunteer Army (SVA), a team of 9000 students helping clean up the earthquake-ravaged city, runs off equality.
"[Youth] don't like being told what to do, we don't like heavy-handed authority with structure rules. I think of the army as a core group with other groups around it, each one equally as important as the rest."
Last night the Christchurch resident was awarded a Special Leadership Award for his approach and efforts, a new honour added to this year's Sir Peter Blake Leadership Awards.
The award hadn't quite hit home yet, he said.
"It's an absolute honour and a true privilege being so young. I'm just really humbled to receive it.
I just try to do my best and try to get other people to do it with me."
Following the September 4 earthquake, Mr Johnson organised a group of 200 friends on Facebook to help clean up liquefaction sludge and debris. Word quickly spread, and the number grew to 2500.
"When it first started out it was not too organised. Everything that happened was very organic. And that was the huge success of it, that it happened organically."
In February, the volunteer base grew to 9000, committing 75,000 volunteer hours over a month. Facebook support numbers keep on climbing with the aftershocks - 26,952 now "like" the SVA.
The volunteer group has grown past its social media origins to become an incorporated society, and now works alongside the Ministry of Social Development, the Earthquake Commission, and the Christchurch City Council.
But the group's enthusiasm was beginning to wane with every aftershock, he said.
"There's not the volunteer motivation now, people are just tired ... It's exhausting, it's really exhausting but it's so rewarding and so fulfilling to see the huge impact it's having on the residents out there.
"It just takes sheer hard work to keep going."
He has put his law and political science degree on hold this semester, to focus on the SVA and his Riccarton-Wigram Community Board duties.
"I like slow torture and don't sleep a lot," he joked.
"But I realised it's about delegation."
He said he believed the team had changed public perceptions of university students.
"People are taking stock and realising that students are doing more than just burning couches."