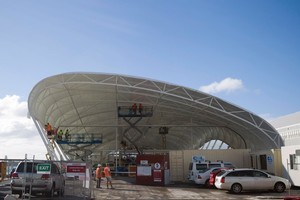 All 48 Rugby World Cup matches will be screened on multiple big screens at Auckland's Queens Wharf, Rugby World Cup Minister Murray McCully says.
Work on the wharf was almost complete, on time and within budget, he said.
The wharf, which has been described by the Government as "party central", will be open every day of the tournament with free access.
"New Zealanders and visitors will be able to watch the rugby on big screens, enjoy free concerts by top Kiwi bands and view displays of New Zealand's creativity, innovation and ingenuity," Mr McCully said.
The highlights will include an official Rugby World Cup fan zone, which would screen all 48 matches live on big screens, a series of live concert, and the giant globe-trotting Tourism New Zealand rugby ball that was a prominent part of the last tournament in France.
The wharf's new building, named The Cloud, will host a series of events showcasing New Zealand business and industry innovation.
"From a commercial point of view, the food and beverage industries, the boat builders, the fashion design people, the film makers will all have their chance to use this space. There will be an international audience here in September and October," Mr McCully said.
The wharf will also host the Real New Zealand Festival, which will feature live local acts including Opshop, The Feelers, The Black Seeds, Katchafire, Don McGlashan, Greg Johnson, Bella Kalolo, Moana and the Tribe, Tami Neilson and I Am Giant.
Mr McCully said more acts were being secured but he was confident the line-up would display the best of New Zealand music.
The giant rugby ball was also a welcome addition, he said.
"It has always received good feedback and now New Zealanders will be able to enjoy the display during the RWC."
What would happen to The Cloud after the World Cup Would be up to the Waterfront Development Agency and there were no plans to send it to Christchurch, as has been suggested.
"The Waterfront Development Agency has told us that they want us to keep it here and use it for events. The commitment we've given is it's here for as long as the Auckland Waterfront Development Agency wants it: they're our partner in the ownership of the site and if they can use it, they can have it."
Mr McCully said he was not concerned about ticket sales, which have been slower than predicted.
"We've still got quite a few tickets to sell, but I'm comfortable that we're looking pretty good.
"I'm focused on Australia as a market where we can be more active now. For those people it is not a long trip and they were always going to be a market we focused on and we'll be doing that now, in the last phase before Rugby World Cup 2011."
Auckland Mayor Len Brown said the daily programme would be built around the tournament's 48 matches.
Shed 10 would be the heart of the fan zone, but the wharf's flexible spaces would allow it to expand outdoors and into The Cloud for the biggest matches.
"Queens Wharf will be the country's biggest official fan zone and the best place in New Zealand to watch the matches live on screen," Mr Brown said.
"Whether or not you have tickets to matches you can still be a part of RWC 2011 at Queens Wharf with all the action on screen and official merchandise available on site."
"Standing here in Shed 10, this is amazing. This was a dingy hole and look at it now - they are really starting to get it shaped-up.
Sponsors including ANZ, Heineken, Brancott Estate and DHL will also have exhibitions.
Further announcements from other sponsors and more details of activities were expected in the near future.
- NZPA