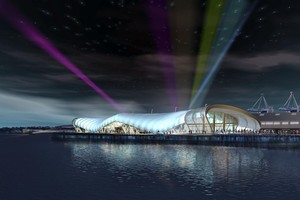 Rugby fans will be able to watch all 48 matches of the Rugby World Cup live on multiple big screens around Queens Wharf.
The Government and Auckland city today announced further details of plans for the Rugby World Cup waterfront 'Fanzone', which Rugby World Cup Minister Murray McCully said would include "free concerts by top Kiwi bands" and "displays of New Zealand's creativity, innovation and ingenuity".
"Queens Wharf is the event hub of the real New Zealand Festival and live music will be one of the features of Queens Wharf entertainment."
Bands confirmed include Opshop, The Feelers, The Black Seeds, Katchafire, Don McGlashan, Greg Johnson, Bella Kalolo, Moana and the Tribe, Tami Neilson and I Am Giant.
"We are still in the process of securing more acts but I am already confident the line-up we have so far will display the best of kiwi music and provide some excellent entertainment, along with the rugby," Mr McCully said.
"The Giant Rugby Ball is also a welcome addition. It has been around the globe on tourism promotions in London, Paris, Tokyo and Sydney. It has always received good feedback and now New Zealanders will be able to enjoy the display during the Rugby World Cup," said Mr McCully.
Auckland Mayor Len Brown said the Queens Wharf daily programme will be built around the tournament's 48 matches.
Shed 10 will be the heart of the Fanzone, but the wharf's flexible spaces will see the Fanzone expand outdoors and into The Cloud for the tournament's biggest matches.
"Queens Wharf will be the country's biggest official Fanzone and the best place in New Zealand to watch the matches live on screen," Len Brown said.
The Queens Wharf entertainment programme will be focused around weekends during pool play and the programme intensifies during the school holidays, with special events from the quarter finals to the final weekend.