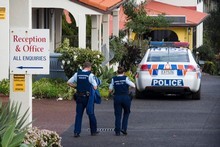 Guests at a West Auckland motel were roused from their beds yesterday as police tried to arrest a man hiding in its roof.
The guests were shepherded away from the Dalma Court Motel at 8am as Armed Offenders Squad members tried to find the wanted man.
The drama in Henderson lasted two hours after a woman in the unit called police.
She made her call after the man, who was known to her, broke in, said Detective Sergeant Eugene Pickett of Waitakere police.
Acting Senior Sergeant Steve Salton, of Henderson police said an arrest warrant for the man had been issued after he failed to appear in court to answer charges.
When police arrived, the man got into the motel's roof cavity.
Police did not know whether he had a weapon.
Motel receptionist Johann Ryu said 30 guests were moved to a restaurant area about 100m down the drive from the upstairs unit, which is in a U-shaped accommodation block.
Guests were in "an all-right mood" once they realised the situation.
Mr Pickett said: "His location was unknown so we needed to clear the motel. We did not know what we were dealing with," he said.
The wanted man surrendered to police without incident when he was found.
A 38-year-old man was to appear in the Waitakere District Court today charged with unlawful entry to the premises and some drug-related charges.
A Wellington man said he was "hustled out of bed" in his upstairs unit by police and into the restaurant.
"They said 'we will move you here now because there might be some bangs'.
"We could not see anything except police standing round with guns."
By Wayne Thompson

Email

Wayne