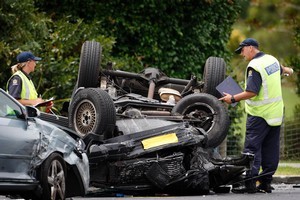 The family of a 72-year-old man killed in an eight-car pile-up, caused by a man who told police he was God, are unhappy the driver could find his way back into the community.
Cornelis Klein, 50, has admitted responsibility for the death of Roden Plimmer in the crash on Auckland's North Shore on February 2 last year, when he deliberately rammed into a police car and subsequently rolled on to the top of a car Mr Plimmer was driving.
It was the second time he had deliberately crashed into a car, having done so in Hamilton in 2003 in an incident where nobody was hurt.
But he was found not guilty by way of insanity by Justice Patrick Keane at the High Court in Auckland today after both the Crown and his lawyer agreed with two psychiatric assessments of him that he was manic due to his bipolar affected disorder at the time of the crash.
Justice Keane ruled that Klein be given special patient status. Under this, he will be detained at the Mason Clinic until certified for release, and he will remain under close scrutiny if he is released.
He also was keen to disqualify him from driving indefinitely, but he wasn't sure if he was able to make that ruling.
Mr Plimmer's son-in-law, Scott Graham, said the ruling was the only one possible, but the prospect of his release was disappointing.
"It was frightening to hear it's not the first time he's deliberately rammed into a vehicle," Mr Graham said outside court.
"The issue for us is that nobody has been held accountable for the action he's inevitably taken."
Mr Graham said he didn't want to turn it into a political debate about the general state of mental health care, but he was concerned about what might happen if Klein wasn't monitored properly.
"Our concern is that it seems from our understanding that there are certain triggers which could make this happen again," he said.
"The potential for this to happen to someone else is very real."
One of the psychiatrists, Prof Graham Mellsop, said Klein was generally compliant in taking lithium at the required dose, but that in the lead-up to last year's crash he had been persuaded by people close to him, and a doctor, that he didn't need to take as much lithium.
Klein had a reading of 0.4mg lithium per 100ml of blood shortly after the crash, though as it was uncertain when he had last taken lithium Prof Mellsop wasn't sure how to interpret this.
However, at one point he had a reading of 0.6mg of lithium 12 hours after taking his dose, and Prof Mellsop said there was good evidence that his reading at this point needed to be 0.8.
Prof Mellsop said two police officers recalled Klein had said "I am God" immediately after the crash.
At police interviews he had been leaning back with his feet up, and his mood was inappropriately elevated when it should have been miserable.
When told somebody had died, he showed little concern. "He was more concerned at his own God-like status," Prof Mellsop said.
Prof Mellsop and Dr Ian Goodwin both agreed Klein knew what he was doing at the time, but he didn't know what he was doing was morally wrong.
After considering the evidence, Justice Keane said "the only reasonable verdict is not guilty by reason of insanity".
- NZPA