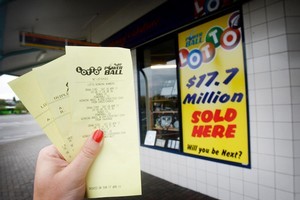 The winner of half of the biggest Lotto Powerball first division prize has claimed their prize today - finally.
An Auckland woman, who wishes to remain anonymous, only discovered she was the one of two winners of the April 9 draw.
After taking a couple of days for the shock to settle, she visited NZ Lotteries' Wellington office to claim her $17.7 million prize.
"I still don't believe this is real," she said. "I never thought I would win."
The woman, who is not a regular Lotto player, was passing through Hamilton and purchased her lucky ticket on a whim from Take Note Dinsdale when she saw the $34 million prize offer.
"I was scared when I first discovered I'd won because the prize is so big.
"This is a life-changing prize, but I'm going to keep things simple, keep working, live my normal life," she said.
Giving money to charities, including Christchurch relief funds, is one of her first priorities with the winnings, but she said other options will be considered down the track.
The other $17.7 million Powerball ticket won in the same draw was sold at Dannevirke New World and was claimed shortly after the draw.
Their prize is the fifth-equal largest Powerball prize. It is worth $17,723,538, made up of $17,612,427 from Powerball First Division, and $111,111 from Lotto First Division.
- NZHERALD STAFF