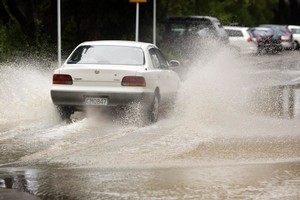 EXTREME: Flooding in the streets of Wellington is not new, as this picture from 2007 shows. NZ HERALD
Move over March, a more dramatic April is on the way. Last month saw average temperatures across the country, with the North Island a little warmer than average and the South Island a little cooler.
The weather was fairly dry but a couple of big rain-makers topped up water tanks. Some people recorded double their normal rainfall while others within the same region saw average results.
Things will now step up a gear with autumn patterns taking over. The models are showing highs and lows becoming bigger and stronger. Think of air pressure as being like a waterbed - there's a limited amount of water within the bed. If you press down hard in one area (a deep low) it will pop up somewhere else (as a large high).
We're going to be seeing more chaos in the patterns around New Zealand this month.
That probably means a higher risk of thunderstorms.
But La Nina is still strong and the tropics are not quiet. Cyclone Bune, which peaked at category 3 eight days ago, was our sixth named storm this year.
Last Sunday a freak rain event in Wellington saw flash flooding in the streets.
Last year I wrote about Niwa investing in a super computer to help improve severe weather predictions. Well, Niwa have announced that their new software predicted this downpour 18 hours in advance.
"The computer model ... forecast the intensity of this event 18 hours before it occurred," says Niwa principal scientist Dr Michael Uddstrom.
"Although the timing and intensity of rainfall forecast by the 12km resolution model were accurate, it placed the intense rain band slightly to the north of the actual falls.
"To improve the accuracy of the forecast location, Niwa scientists are developing an even more sophisticated numerical weather prediction model."
It's great Niwa is investing in accurate weather forecasts.