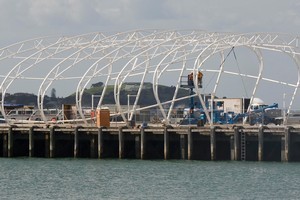 Workers are continuing repairs on what will become the Rugby World Cup's party central, which authorities say is on schedule to be completed a month out from kick-off.
Waterfront Auckland said yesterday workers were focusing this week on the 100-year-old Shed 10, making surface repairs and ensuring the wharf area was water-tight.
It will cost up to $4 million to refurbish the building. Electricity, water supply and telecommunications services are also due to be installed soon.
Work has begun on installing the main attraction of party central - dubbed The Cloud - which will be able to hold up to 6000 people for events, concerts and functions. This will also be where VIP guests will be hosted.
Sections of the steel frame which will hold the huge tent-like fabric together have been put up on Queens Wharf. Work on The Cloud - which will cost about $9.8 million - will continue for the next two months, with the whole party central area expected to be complete by August.
Chief executive John Dalzell said yesterday all work towards finishing the area was on schedule and it was an exciting time. "I just encourage people to come down and get a sense of the new buildings and the new public spaces."