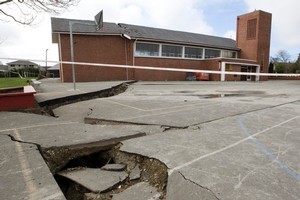 Six Christchurch schools have been significantly damaged following Tuesday's massive earthquake.
Education Minister Anne Tolley today said the city's schools and early childhood education (ECE) centres remain closed until further notice, though some north and south of the city in Selwyn and Waimakariri may be able to open on Monday.
There are 215 schools across Christchurch, Waimakariri and Selwyn with around 76,000 students, and 415 ECE services.
"A team of 30 Ministry of Education assessors is currently working its way around schools to determine how safe they are and the extent of the damage, but it's already clear that many have been badly affected," Ms Tolley said.
Christchurch Girls High, Avonside Girls High, Shirley Boys High, Manning Intermediate, Mount Pleasant Primary, and Van Asch Deaf Education Centre are significantly damaged, she said.
Hagley Community College, Discovery Primary, Unlimited Secondary, Catholic Cathedral College and St Paul's, Christchurch East Primary, Southern Regional Health School, St Mary's School, St Michael's, Christ College and Cathedral Grammar School were also likely to be seriously damaged.
"The Ministry is currently working on alternative arrangements for students who won't initially be able to return to their schools, and more information will be made available in due course," Ms Tolley said.
Schools in Selwyn and Waimakariri may open for staff tomorrow, if buildings meet health and safety requirements. Boards can then decide to open for students from Monday.
Ms Tolley said parents should contact their schools for more information or visit the Ministry of Education website.
There is also a helpline for schools and ECE staff wanting further information on 0800 225 580.
- NZPA