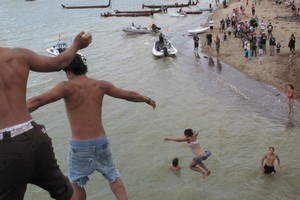 More than 65 per cent of New Zealanders think public holidays which fall on a weekend should be transferred to a Monday, according to a Research New Zealand survey.
Labour MP Grant Robertson announced last week he would introduce a member's bill to ensure holidays which fall on a weekend or another public holiday, like Waitangi Day and Anzac Day this year, can be taken on another day.
Research NZ polled 500 people last week and found 66 per cent felt it was fair that employers should be required to compensate workers for the loss of two public holidays by giving them paid holidays instead.
Sixty-four per cent felt the paid holiday should fall on the nearest Monday, Research NZ director Emanuel Kalafatelis said.
Seventy-nine per cent of those in the younger age group, aged 15-34 years, felt "Mondayising" was fair, while only 47 per cent of those in the age group 55-years and older felt the same way.
Mr Robertson said last week it was not fair that this year New Zealanders would only get nine out of the eleven paid public holidays they were entitled to.
"Anzac Day and Waitangi Day are of great importance. It is important that we continue to commemorate the days on the 6th of February and 25th of April. This Bill will not change that, but it will restore to New Zealanders the holidays they deserve," he said.
The Research New Zealand poll of 500 people aged 15 and over was conducted by telephone on January 25-31.
- NZPA