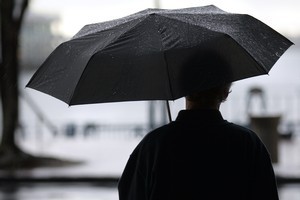 Tropical storms made for the wettest January on record for parts of Northland, as much of the North Island was battered with four times the normal amount of rain.
Niwa's National Climate Centre said January was "an extraordinary month for rainfall", with lows caused by tropical cyclones Vania, Zelia and Wilma bringing torrential rains and gales to much of the North Island.
The bad weather caused extensive damage in parts of the North Island, flooding properties, bursting river banks and causing slips that blocked roads.
But while the rains wreaked havoc, there was a silver-lining - much of the island enjoyed higher-than-usual mean temperatures.
Niwa said four times the average January rainfall was recorded in eastern Northland, Auckland, the Firth of Thames, Coromandel and western Bay of Plenty, while much of the rest of the North Island received double the normal amount of rain.
Above-average rainfall was also recorded in Westland, Kaikoura and parts of Southland and Otago, while South Canterbury and the Nelson Ranges were drier than usual.
Northland received more than its fair share of rain, with Dargaville receiving 212mm in January - the highest monthly rainfall since records began in 1943. Whangarei, Kaitaia and Kaikohe recorded their second-highest levels.
Cape Reinga, Kaitaia, Kaikohe, Dargaville and Whangarei also received their highest one-day rainfall totals since records began.
Of the main centres, Auckland was the hottest, with a mean temperature of 20.7degC, while Dunedin was the coolest, with a mean of 14.9degC.
Tauranga received the most sun, with 238 sunshine hours, but was also the wettest, with 347mm of rainfall.
Dunedin was the least sunny centre, with 143 sunshine hours, and Christchurch was the driest, with 58mm of rainfall.
- NZPA