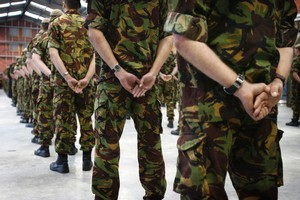 Prime Minister John Key has confirmed the New Zealand Special Air Service (SAS) deployment to Afghanistan will be extended for another year from April.
However, it will be a smaller deployment of about 35, compared to the current 70.
Mr Key said the deployment would work in partnership with the Afghanistan primary response unit, as at present.
It was likely to be the last deployment and was requested by the SAS itself which had wanted to bed in its work well before leaving.
He said the head of the Defence Force had assured him the smaller deployment would not compromise security for the Rugby World Cup.
Speaking to media yesterday, Mr Key said New Zealand was not being pressured to keep the SAS troops in Afghanistan.
"What I would say is that the SAS are extremely well respected for what they do, so obviously our traditional allies on the ground in Afghanistan, the United States, Britain, Australia and Canada, and others, obviously would love to see New Zealand SAS there because they do a great job and they make a real difference."
But Green Party defence spokesman Keith Locke said the decision was "a disappointing concession to pressure from the United States".
"Prime Minister John Key has missed a golden opportunity to extract all of New Zealand's Special Forces from this unpopular and unwinnable war," said Mr Locke.
Opposition leader Phil Goff also called for the troops' withdrawal.
"It's time to bring the SAS home," he said.
"The SAS are great soldiers, but we should not be putting them at risk for a deeply corrupt government that has failed to win the support of its own people.
"The SAS are being placed in situations where innocent lives can inadvertently be lost on behalf of a regime that has not won the hearts and minds of its people and which will blame outsiders when things go wrong."
- with NZPA, NZ Herald staff