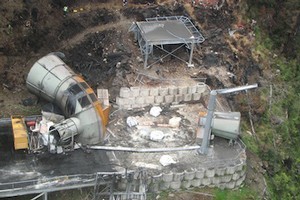 Rising gas levels have again stopped workers trying to recover the bodies of 29 men trapped inside the Pike River Coal mine today.
Police said workers were preparing to start pumping expanding foam sealant into the cracks around the slimline shaft at 1pm today when the situation deteriorated, requiring the hillside to be evacuated. Work is unlikely to resume today.
Rescue teams have since the weekend been trying to seal cracks around the slimline shaft, a bore near the ventilation shaft, to allow the GAG and Floxal machines - which were pumping water and nitrogen into the mine - to operate more efficiently.
The GAG machine has been shut down since about 4pm yesterday. The machine is being regularly rested to prolong its useful lifespan, said Inspector Gary Knowles.
Preparations were also being made to drill another borehole in the main coalface area of the mine. This will be used to provide gas and temperature monitoring access.
Rocsil foam that expanded to 35 times its original volume and hardened within about five minutes would, hopefully, create an effective seal.
Temperatures and methane gas levels inside the mine continued to fluctuate, hindering attempts to get into the mine and recover the bodies of the miners and contractors killed in a series of explosions since November 19.
Meanwhile, accountants, lawyers and "men on the ground" have met to discuss the distribution of millions of dollars to families of the 29 men killed in the West Coast mine.
The distribution of more than $7 million in donations was going to be "quite technical", Grey District Mayor Tony Kokshoorn said today.
"It's not just 29 units here, because of circumstances of different families, there's a lot more than that," he told Radio New Zealand.
"So we're identifying exactly who they (the beneficiaries) are and then we will distribute into separate trusts all of the funds."
Mr Kokshoorn said the families would also have a say in how best to allocate the money.
"The main factor we'll take into the account is longevity and how long we want this trust to last, and that is all about the children."
He said the families were finding the grieving process difficult without their loved ones' bodies.
"While there's still no good news they have found it very hard."
- NZPA