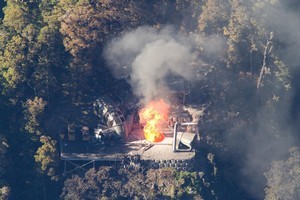 Police hope to cap the vent shaft at Pike River mine tomorrow after weather conditions at the site prevented the operation from going ahead today.
Superintendent Dave Cliff said everything was in place for a helicopter to lift two 770-kg steel plates into place to seal off the vent shaft.
"We're ready to go, but rain, wind and low cloud around the site have delayed the lifts today," he said.
Attempts were to be made today to cap a shaft into the Pike River Coal mine and quell the intense fire believed to be burning in the West Coast mine, which has entombed 29 men.
"We need to ensure conditions are safe for what is a challenging helicopter operation," Superintendent Cliff said.
"At this stage we plan to try again tomorrow morning, when conditions are expected to be favourable."
He said the GAG unit was working as normal to stabilise conditions inside the mine.
The cap on the vent shaft is expected to increase the efficiency of the GAG unit and improve the stability of atmospheric conditions inside the mine.
Work would then begin to phase out the GAG engine and introduce a
nitrogen-generating unit.
A nitrogen-generating unit has been sourced in Australia, and planning is currently under way to bring it to the mine.
Police are now handing over the recovery operation to the mine company, which has vowed to spend its last dollar to recover the men, killed during a series of explosions in the mine, about 50km northeast of Greymouth, last month.
A fire in the mine has prevented the bodies being recovered, as temperatures inside could reach up to 600degC. An active fire, at times visible from the vent drilled down to the mine, is believed to be out, but the underground fire may still be smouldering.
Pike River chief executive Peter Whittall said the company would do everything it could for the families and "right down to the last dollar" would try to reopen the mine and recover the men.
Police Commissioner Howard Broad said police's emergency role in the tragedy had come to an end.
He stressed that the primary police interest remained the recovery of the bodies but entry to the mine was "not likely in the medium term".
Officials were making "realistic judgments" about the value of mine entry for their investigation purposes, he said.
Grey District Mayor Kokshoorn told NZPA the police decision to pull out of the operation was hard for many of the men's families, who are holding on to hope they could still be recovered.
However, "There is still an expectation that Pike will get this fire out and that they are committed to moving on," he said.
- NZPA, NZHERALD STAFF