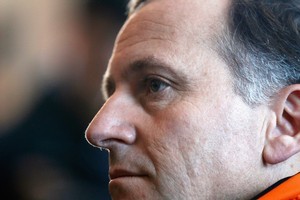 Present and past government ministers are likely to come under scrutiny from the royal commission of inquiry into the Pike River mine tragedy.
Cabinet yesterday approved the setting up of the royal commission - the highest level inquiry the Government can order - into the incident that claimed 29 lives since the initial explosion on November 19.
Prime Minister John Key said the terms of reference were broad enough to include any ministerial responsibility - in his Cabinet or previous ones - for the incident.
Other important questions will be canvassed, including the mine's safety practices and whether they were properly monitored, and what mine managers knew about levels of dangerous gases in the mine at the time the 29 miners entered the mine.
The inquiry will also look at whether the industry was properly resourced - including an examination of whether two national mine safety inspectors are enough - and whether safety was compromised by environmental or conservation concerns.
In a separate inquiry, the Department of Labourwill bring in an overseas expert to conduct an interim safety audit of all operating underground coal mines.
The royal commission terms and references - still in draft form - outline areas including:
* The cause of the November 19 and November 24 explosions.
* The cause of the deaths.
* Safety processes - including legislation and regulations - in underground coal mines and how they compare with those in other countries.
* The rescue/recovery operation, including resourcing and preparedness.
* Any other relevant matters.
It will make recommendations on what needs to be changed to prevent a similar disaster happening.
It will cost up to $5 million and start as soon as possible, taking as much time as it needs - expected to be up to a year.
Families of the deceased will be eligible for legal support.
The inquiry cannot jeopardise other legal processes and could be delayed if, for example, police or the Labour Department lay charges.
Pike River Coal and the chief coroner are also investigating the incident.
Mr Key said subsequent explosions and the time already elapsed would not help the inquiry determine the time and cause of the deaths.
He said the other two commissioners would be confirmed soon. One should be an international mining expert, and the other a layperson to give the inquiry a perspective outside the industry.
He rejected the idea of a union representative on the commission, because unions should "submit to the commission rather than be on it".
"If we put a union rep as a third commissioner, it could be seen as favouring one side over maybe others," Mr Key said.
"It's my expectation that, as a minimum, mining companies, unions, families, international experts, government agencies and rescue services will be involved in the inquiry."
Royal commissions can conduct hearings behind closed doors, but Mr Key said yesterday he expected public hearings to be held in Greymouth. Commissions can call witnesses and receive evidence, and are seen to be independent and credible.