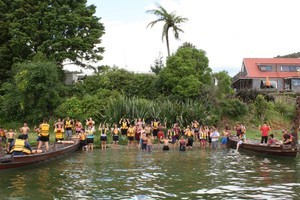 A moving ceremony to bless a memorial garden on the shores of Lake Rotoiti has marked the first anniversary of the bashing death of Bay of Plenty school principal and regional councillor Hawea Vercoe.
Mr Vercoe, 36, died when he was attacked outside a bar in Whakatane last year and earlier this year 21-year-old orchard worker Isaiah Tai was jailed for two years and 10 months for his manslaughter.
Mr Vercoe, a father of six, was principal of Te Kura Kaupapa Maori o Te Rotoiti and in his first term as Okurei Maori constituency member for the Bay of Plenty Regional Council.
The memorial included a powhiri at Mr Vercoe's school and the unveiling and blessing of the memorial garden when past pupils spoke about the influence Mr Vercoe had had on them during their days at the school.
The floating wetland provided a habitat for wildlife and was launched from Lake Rotoiti by children paddling a waka, towing it to its anchor site.
Tammy Gardiner, acting principal of Te Kura Kaupapa Maori o Te Rotoiti, said one of Mr Vercoe's aspirations was to initiate a floating wetland for Lake Rotoiti.
"He was extremely passionate about the health of the lake. With the help of Bay of Plenty Regional Council, Te Arawa Lakes Trust, Kauri Park Nurseries Ltd and others, Mr Vercoe's dream had been realised," she said.
Staff and children of Te Kura Kaupapa Maori o Te Rotoiti built the remembrance garden, called Te Mara Manawanui.
Tai pleading guilty to Mr Vercoe's manslaughter after the unprovoked, alcohol-fuelled attack.
The two men had been drinking and when the bar closed Tai punched Mr Vercoe in the face. He fell to the footpath, hitting his head, before Tai kicked him in the head.
He died a short time later in Whakatane Hospital.
- NZPA