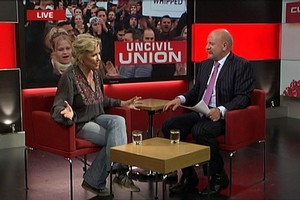 Last Tuesday, Auckland delivered an exquisite early summer on a tinkling hot day. I took my youngest daughter to Soul in the Viaduct Basin for her 25th birthday. But as we finished our lunch and watched the beautiful people strolling around, we saw an elderly woman fall as she walked up the steps to the Siebel Hotel.
Nobody helped her up or asked if she was okay. Two couples, seated at tables no further than a metre away from her, turned back to their wines and carried on dining while the woman clambered up and hobbled away.
Wake up, New Zealand. This is a metaphor for what we're becoming. It's all about me, me, me and to hell with the consequences.
We seem to be more focused on bringing this country to its knees than concentrating on what we can do to help those trying to get on with the job of lifting it up.
Nobody seems to understand any more that actions have consequences - sometimes extremely severe consequences - which affect a great number of people. It's just not good enough to bleat, as celebrity actor and Actors' Equity spokesperson Robyn Malcolm is now doing, that the boycott against Sir Peter Jackson's films was "not personal".
Too bloody right it's personal for Jackson. It's always been personal, right from when he had nothing but a supportive mum, a hugely creative spirit and a dream.
What right did these union bullies have to demand a meeting with him?
They have no right at all - he's a private person.
The only thing which could be said in defence of Malcolm and Equity president Jennifer Ward-Lealand, who sounded like the Queen opening a supermarket when she made one of her first announcements demanding fair and equitable conditions, is that they're both ignorant and stupid.
That made them prime targets for the cynical Australian unionist, Simon Whipp, but wouldn't you think if they were going to start spouting to media about this issue, these bimbos would get up to speed on the facts?
One of the reasons the Australian union targeted The Hobbit was it wanted to be the collection agency for the residuals.
The Media, Entertainment and Arts Alliance (MEAA) would clip the ticket to the tune of about 7.5 per cent, which amounts to thousands of dollars and makes Jackson's film a cash cow for them.
Even when Whipp had been exposed as Machiavellian, Malcolm was still defending him on Close Up, in her vacuous manner, and did so again last Sunday, asking charmingly: "would I root the industry?" In case you haven't noticed, sweetheart, you damn near murdered The Hobbit.
Malcolm boasts that she has worked for Jackson twice and received flowers from his company but that doesn't licence her "brand" to be manipulated by the Australian and local union to bring down the filming of The Hobbit .
I do admire Malcolm's self-assurance. There she was on Close Up, in jeans and an old jersey, thumping along, all-matey with Sainsbury, arm-waving, talking about actors having a conversation with their employees (sic), not having bothered to even brush her hair.
Most of us are terrified of television appearances, having seen in the mirror a good face for radio.
Do people like Malcolm ever suffer from crises of confidence? I can't enter a restaurant without fear of being turned away - "sorry, you're not famous". Going to parties brings on panic attacks - "here comes that boring Coddington woman". Using my eftpos? Transaction declined, insufficient funds.
This country was brought to its knees by unions once before but it's not just the unions I'm blaming here. The sickness in my stomach comes from more than this. It's the vindictive pleasure people seem to get from destroying what is good, just because they can.
I totally agree with Jackson; we might as well move overseas. Not that the same meanness of spirit doesn't occur offshore but the difference is I feel no great love for England or Europe or America, so I won't feel the same sadness when I see mindless carping in those countries.
And I won't feel the same disgust when I see others turn away and not offer to help, as with that woman at the Viaduct.