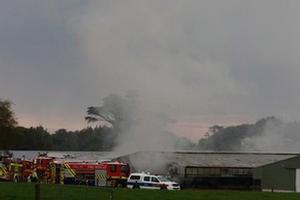 One of the two firefighters injured in a Taranaki poultry shed fire yesterday has been transferred to Waikato Hospital for specialist treatment.
New Plymouth senior firefighters Graeme Hill and Sam Julian were knocked off their feet when the shed was suddenly engulfed by heat and flames because of a suspected gas heater explosion.
Mr Hill, 34, suffered serious burns to his back and arms and has been transferred from Taranaki Base Hospital to Waikato Hospital for further treatment.
He was now in a "satisfactory condition in a ward", a spokeswoman said.
Mr Julian, 31, escaped with serious burns to his back and arms and remains in Taranaki Base Hospital.
More than 85 firefighters were called to the fire at a 100m-long shed at a poultry farm in Lepperton, near New Plymouth, about 4.30pm.
Fire Service Taranaki assistant area manager Hamish Smith said the two firefighters entered the shed to try to find the source of the fire and were caught in "flashover".
"This flashover led to the entire shed being engulfed in flames almost immediately," he said.
"The heat and flames knocked both men off their feet. Despite their injuries, their training kicked in and they helped each other to safety."
The shed was being heated to 33degC prior to the delivery of 20,000 chickens tomorrow. No chickens were in the shed when the fire started.

- NZPA