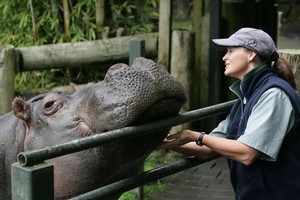 One of Auckland Zoo's oldest residents, Snorkel the hippopotamus, has died.
The 50-year-old female was euthanised last night as her health has declined dramatically over the past three years.
Auckland Zoo director Jonathan Wilcken said the decision to euthanise Snorkel was "very carefully considered" and made in consultation with the zoo's vet and keeping staff.
"While a tough call - especially for an animal such as Snorkel, who was born here, and has been so much part of the Zoo family - euthanasia was the only humane option."
Mr Wilcken said given the average life span of a hippo in a zoo is 40 to 45 years, Snorkel has had a great innings.
"Snorkel is an animal who has loved the social interaction of her keepers and delighted many visitors who have met her up close on our Zoom [behind the scenes] tours. She will be greatly missed by everyone here and we're sure by those zoo visitors who got to know her well over the years."
- NZ Herald staff