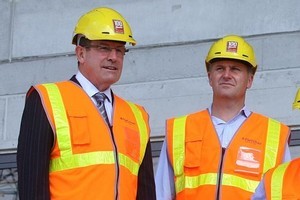 Auckland Super City mayoral candidates John Banks and Len Brown argued last night over who had a better relationship with the Prime Minister.
The two heavyweight candidates, with businessman Colin Craig, spoke to people in Mission Bay and Kohimarama in one of many mayoral debates.
About 60 people gathered for the debate, held at the Royal Akarana Yacht Club at Okahu Bay.
There were fiery moments at times, as a few members of the audience pressed the trio on their moves to make Auckland a better city.
The debate focused mainly on transport issues, in particular the proposed Albany-to-the-airport rail system.
Mr Banks got a united "ooh ... " from the audience, when he hinted that he was in closer circles with Prime Minister John Key than his opponent, Mr Brown.
"There is not one person in this room who knows that the National Government want to work with my opponent from Manukau City and not me," he said.
Mr Banks walked back to his chair, as some in the audience laughed and said: "Hear, hear."
But Mr Brown calmly stood up and said: "Firstly, I totally believe that you are beheld by the National Government.
"Secondly, what I believe is we don't need somebody who's looking at what they're doing in Wellington.
"We need a person based here in Auckland and who's focused on Auckland.
"It's not going to be like, 'Oh, I have a great relationship with the National Party'.
" I have a great political relationship with John Key and we get on very well."
The audience clapped appreciatively.