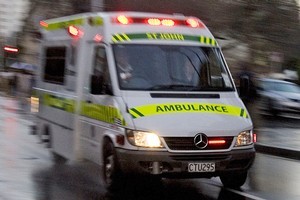 Unlawfully taking an ambulance may have been only a prank, but St John says it is more than happy that police are prosecuting the man they believe was responsible.
A 22-year-old appeared in the Dunedin District Court yesterday charged with unlawfully taking a St John ambulance he had called for his friend, who had fractured his skull and vertebrae after falling 4m onto concrete.
Senior Sergeant Craig Brown said the incident happened in North Dunedin at 11pm on Wednesday.
While paramedics helped his 27-year-old friend, the man jumped in the ambulance and drove it about 50m along the road, Mr Brown said.
One of the paramedics chased the vehicle and caught the man, who ran off but was arrested a short time later in a nearby street, Mr Brown said.
He was more than double the legal breath alcohol limit.
The friend was taken to Dunedin Hospital.
St John southern region operations manager Doug Third said this was about the fourth incident he could recall in the past 25 years of an ambulance being stolen in Dunedin.
Officers sometimes left ambulances unlocked and with the engines running when they arrived at callouts.
Taking an ambulance was usually a drunken prank.
St John did not take kindly to its ambulances being taken, Mr Third said.
Not only did it put the patient at risk, but also the crew and other members of the public, particularly if a drunk person tried to drive it.
Mark Sharn Arthur , unemployed, was remanded in custody by consent and without plea to August 19 when he appeared in the Dunedin District Court yesterday on charges of unlawfully taking an ambulance and driving with a breath-alcohol level of 827mcg.
- OTAGO DAILY TIMES