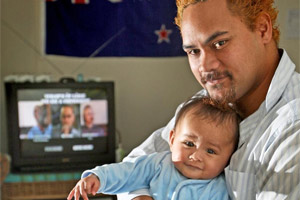 There's no simple job description for fatherhood, but Mangere first-time dad Daniel Brown knows the kind of dad he doesn't want to be - one like his own.
"My dad wasn't the best dad in the world, and that made me think about what I wanted to be like when I had kids. I never wanted to be like him," he said.
Yesterday, Mr Brown, 28, became one of the first new dads to receive a new DVD, In Your Hands, offered free by a trust called Great Fathers to all new or soon-to-be fathers.
Funded by the Todd and Lion Foundations, it features musicians Tiki Taane, Warren Maxwell and Sean Donnelly (SJD) playing music and talking about how having children changed their lives.
New Plymouth writer, carpenter and musician Dave Owens, 59, says he created the DVD out of "a huge sense of anguish" he felt when he learned the modern scientific evidence about the way experiences shape children's brains.
He inherited a stepdaughter, Sonya, at 17 months after her mother had endured an abusive relationship with the baby's father. Twenty years later, she committed suicide.
"In retrospect, I realised that the experience she had in those first nine months when she lived in that violent relationship is something she never recovered from. If I had been aware of what I know now, I would have been much more aware of what I could have done ... it could have made all the difference."
The other driving force behind the DVD was the number of children growing up without fathers.
"I believe that if we can help men make an emotional attachment to their child very early on, they are more likely to stay in a relationship with that child, even if their partner relationship finishes," Mr Owens said.
Mr Brown, who attends a young fathers' programme run by the Father and Child Trust in Onehunga, had a period in his teens when he behaved exactly like his father.
"I was very aggressive, I was very angry, I think mainly with all that pain and stuff," he said.
Two years in jail gave him a chance to change.
"I had a look at it and said, 'I don't want to be like this any more'."
He is now a fulltime dad for 5-month-old son Eruwera. He admits it is a challenge, but he said the young fathers' programme had helped him with his partner, and he loved a line on the DVD where one of the musicians says he loves the smell of his baby.
* Copies of the DVD can be ordered from www.greatfathers.org.nz