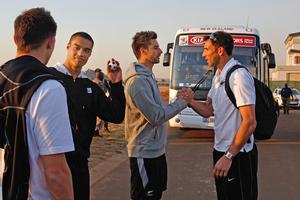 Hundreds of people are expected to turn out at Auckland Airport this afternoon to welcome home the returning All Whites after their extraordinary undefeated run at the World Cup.
The team won admirers across the globe with their charisma and their performances, including a draw against world champions Italy.
Football clubs and supporters last night urged New Zealanders to give the stars a heroes' welcome.
Star midfielders Ivan Vicelich and Tony Lochhead will arrive at 12.50pm today, with vice-captain Tim Brown, squad players Cole Peverley and Ben Sigmund, and assistant coach Brian Turner.
Two fire appliances will be waiting to create a water arch over the plane as it taxis to the gate, an honour usually reserved for Olympic teams and new planes.
Football officials recommended fans bring banners and signs to welcome them.
Five players will then catch a connecting flight to Wellington which will arrive at 5.30pm, giving fans in the capital a chance to greet the stars.
Auckland Football Federation chief executive David Parker said: "It is a great opportunity for parents to bring along their kids, for people to get off the couch and congratulate their achievements."
Parker thought about 500 people would turn up to greet the team in Auckland.
"It would be great to see," he said. "The team really deserve it."
Grant Herman from Capital Football in Wellington said times and flight numbers have been sent out to all football clubs in the region.
"We are urging them to get out, it would be great to get as many as possible. They did an amazing job over there and now we get a chance to welcome them home."
Steve Vuksich from Auckland City Football Club said members would welcome players and he hoped parents would bring their kids along.
"They have done an absolutely fantastic job over there."
Other players to arrive home over the next week include Aaron Clapham, who will jet into Christchurch at 2.20pm tomorrow. On Tuesday David Mulligan, James Bannatyne, Andy Barron, Leo Bertos and Mark Paston will arrive at Auckland at 12.50pm.
Captain Ryan Nelsen is on his way to the United States to be with his wife Monica, who is due to give birth to their second child next month.
Winston Reid is heading away on holiday, Simon Elliott is off to America to find a new club and Chris Wood is bound for England where he plays for West Bromwich Albion.
Rory Fallon, one of the great characters in the side, is going to visit an orphanage in the Serengeti.
Ricki Herbert, who is on a family holiday in Hong Kong, has hinted he is keen to remain All Whites coach: "I'd love to be part of the future," he said.
A ticker-tape parade to welcome the entire team could be part of the lead-up to the Wellington Phoenix's game against Argentine club Boca Juniors in Wellington next month.
The All Whites have attracted the attention of European clubs, including Scottish club Rangers. Assistant manager Ally McCoist said he was keen to unearth a "diamond in the rough".
TVOne said 293,180 watched the All Whites take on Paraguay in their final match in the early hours of Friday.