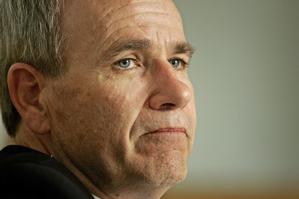 Manukau Mayor and Super City mayoral frontrunner Len Brown says he will not stoop to muck-raking after his political opponents went digging for more details on his credit card spending.
Manukau councillors and Citizens & Ratepayers Super City candidates Jami-Lee Ross and Dick Quax yesterday requested all receipts, invoices, notes and other documents relating to Mr Brown's credit card expenditure since he became mayor of the city in 2007.
Mr Brown admitted on Monday to making three personal purchases on his council credit card totalling $579.27 in the year to May, including a $148 mini hi-fi system for a family event.
He has repaid the council for the spending.
The mayor is believed to have signed a credit card application stating "under no circumstances will I use the card for private (non-business) transactions".
Mr Ross said he was seeking the information as chairman of the council's accountability and performance committee, but also admitted he had been in touch with C&R figures outside Manukau on the issue.
The right-wing C&R political ticket opposes Mr Brown, who has shot to an 11.4 per cent lead in a Herald-DigiPoll survey over the C&R favoured candidate, Auckland City Mayor John Banks in the race for the Super City mayoralty.
Asked about his political motivations, Mr Ross said he was not the one who walked into Dick Smith Electronics and bought a stereo with a council credit card.
He said Mr Brown's response that it was a political attack was a cheap way of avoiding attention under heat.
Last night, Mr Brown said he was not perfect, but had been open about his credit card use.
He said C&R was desperately looking for anything to attack him on, saying he was not going to respond by personally attacking people and muck-raking.
"That's the style of politics that has stuffed Auckland for the past 20 to 30 years and we are going to put an end to it," he said.
Mr Brown said he had cut up his credit card and if elected mayor of the Super City he would use a purchase account and publish the mayoral expenditure every six months.
Council finance director Dave Foster said he believed Mr Brown breached the council's credit card policy on only one occasion.
Mr Foster cited extenuating circumstances for the two other occasions Mr Brown used his card for personal purchases.
It was unclear what the purchase of $115.27 of groceries was for - Mr Brown chose to put it down as a personal expense - and the booking for a family event at the Rendezvous Hotel was inadvertently put on his council credit card instead of his personal credit card.
Mr Foster said Mr Brown noted on the documentation for the hi-fi purchase that it was a personal purchase to be reimbursed.
Manukau City Council credit card policy:
*The purchasing card must not be used to pay for personal purchases.
*Cardholder application form says: "I understand that under no circumstances will I use the card for private [non-business] transactions, either for myself or for others."