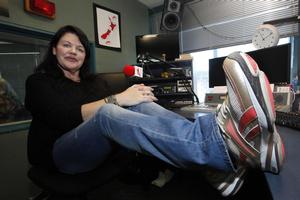 They may look like a throwback from the 80s, but new toning sneakers can do much more than put the spring back into your step.
Two versions of the specially designed shoes have just gone on sale in New Zealand, with the makers promising they will improve muscle tone in the thighs, calves and buttocks.
Reebok's EasyTone and Shape-ups by Skechers, can also straighten posture, and help weight-loss.
Celebrity endorsement from the likes of Wellington-based radio host Polly Gillespie and English model Kelly Brook are seeing their popularity soar.
Gillespie, a breakfast DJ for ZM, said she noticed the difference as soon as she first started walking in EasyTones.
She said: "It would be like you've been to the gym and had a hammering on your hammies and glutes.
"The next day I felt like I had a huge long workout."
Gillespie said that while she is a gym member, she prefers to go for walks instead.
"I don't like having to go somewhere to do exercises," Gillespie said.
Shape-ups, which cost $269, have a "kinetic wedge" that causes a rolling motion while walking, retraining the muscles to work harder, say Skechers.
A US study found that people who wore the shoes improved the strength in their glutes by 41 per cent, and their lower back by 37 per cent.
But Bruce Baxter, president of Podiatry New Zealand, is sceptical about their benefits.
"I am not convinced it's particularly sensible."
He said while some people may see benefits from the shoes, there is the potential for over-use syndrome in the tiny bones and ligaments in the foot.
Bouncing in delight
I felt good bouncing along Queen St after work in my bright, white Reebok EasyTones.
The cushioned soles put a spring in my step.
During a quick walk around the block I was conscious of the extra effort my legs seemed to be making and how straight my back felt. My flat slippers afterwards felt like they weren't giving enough support to my feet.
- Anna Rushworth
Walking in Sketchers Shape-Ups feels like you're traipsing on a bouncy castle. Within hours I felt my posture improve and I could also feel the effects in my leg, back and butt muscles by the end of the first day.
- Anna Leask